Get Started
This course is currently closed
Course Aim: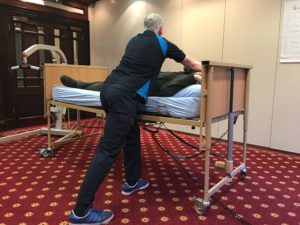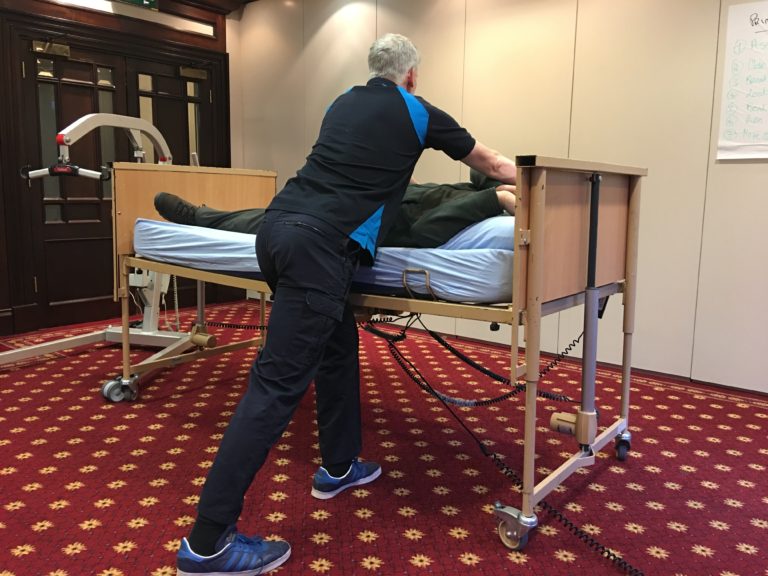 The purpose of this Patient Handling Instructor course is to equip the learner with the knowledge, skills and competence to deliver a Patient Manual Handling Course.
Course objectives:
On completion of this Patient Handling Instructor Course learners will be able to:
Explain the patient handling risk assessment process
Describe a range of controls to avoid and reduce the risk of injury associated with patient handling
Apply the main principles of manual handling to a range of patient handling tasks
Carry out a range of appropriate patient handling techniques to include transferring, supporting, gliding, sliding, rolling, sitting and standing
Analyse the learner's performance of patient handling techniques
Develop patient handling training courses, to include lesson plans
Give effective instruction in practical patient handling techniques
Content
Day 1 (Zoom)
Unit 1 Introduction to Patient Handling
Unit 2 Legislation Patient Handling Risk Assessment
Unit 3 Patient Handling Equipment
Unit 3 Infection Control
Unit 5 Patient Handling Principles and Techniques
Unit 6 Planning and design of People Handling Training courses
Unit 7 Delivery of People Handling Training
Day 2 Classroom
Practical Skills
Sitting up, Turning, Standing, Sitting, Walking
Patient Handling Equipment practise
Day 3 Classroom
Practical Skills demonstration assessment
Examination
QQI Level 6 Patient Handling Instructor Course location:
This course is delivered through Zoom (day 1 and classroom (day 2 & day 3).
QQI Level 6 Patient Handling Instructor entry requirements
Participants must first complete the QQI Level 6 Manual Handling Instructor course.
To ensure the greatest opportunity for successful participation in our programmes, learners are required to have a good command of English in terms of reading, writing and speaking.
This standard of proficiency is indicated by achieving or exceeding the standard of CEFR B2+ Common European Framework of Reference (CEFR). Learners who have achieved a passing grade in English at Junior Certificate level will be deemed to meet this criterion. However, learners for whom English is not their first language, are required to advise Qualtec, and may be required to provide evidence of proficiency.  This could include completing a standardised CEFR test or equivalent.
Learners should have basic IT skills. They will need to be able email, word process (Word) and use Presentation software (Powerpoint) and Zoom. They must have good broadband access and their own laptop/ tablet with microphone and speakers. The course should be completed in a quite location. This can be tested prior to the course commencement.
QQI Level 6 Patient Handling Instructor Course Assignments & Time Commitment 
Learners will need to complete a number of assignments.
Patient Handling Risk Assessment on a manual handling task (Brief & template provided) of 750 words. Allow 2 hours to complete and due on final day.
Lesson Plan for the skills demonstrated(template provided). Allow I hour for completion and due on the final day of the course.
Preparation of skills demonstration for 15 minute presentation.  Allow 2 hours for this preparation. Delivered on day 3 of the course.
Study for Patient Handling Instructor Exam (20 short questions). Allow 2 hours for study. Completed on day 3 of the course.
Training Delivery Location
Day 1 will be delivered through Zoom and day 2 & 3 will be delivered in the classroom (Glenroyal Hotel, Maynooth, Co.Kildare).
Technical Support
If learners have any academic IT issues they can contact the trainer by email or [email protected] from 9.00 until 5 Monday to Friday. They can also contact outside these hours in the cause of urgent issues.
Certification 
In successful completion of this course learners will receive a QQI Level 6 Patient Handling Instructor Certificate. This is a requirement by the HSA for the delivery of Patient handling training in Ireland.
Why Qualtec?
Experience. We are delivering this course for the last 15 years and have trained over 1,000 learners. We were one of the first companies to be approved to deliver this course.
Satisfaction. We get great feedback on this course. Check out the testimonials below. People come away feeling competent and confident to deliver it. We provide a money back guarantee! If you are not satisfied after the first day we will refund the course fee!!!
Price. We are competitively priced. There may be cheaper out there. However we offer value for money. Tea and coffee are also included.
Competence. All of our trainers are fully qualified to deliver this course. Qualtec are a QQI Quality Assured Institution.
Resources. On completion of this course learners will be registered on our elearning center. In this they will have access to our PowerPoint presentation, guides, videos and useful links